The Festival is held at Moreno Beach located inside Lake Perris State Park
ADDRESS:
18095 Lake Perris Dr
Perris, CA 92571
GA ENTRANCE:
When you arrive you must use the WEST ENTRANCE unless you have a VIP pass, the north entrance will be closed to all other attendees, and you will be asked to turn around and go back. To ensure you're arriving at the right gate use this link for your directions.
VIP & FAST PASS ENTRANCE:
When you arrive you may use the North Entrance to the park if you wish. This allows you to skip past the majority of gate traffic and cruise right in. To enter the park through the north gate you must come off Iris Ave and turn right on Via Del Lago. Use this link for your directions.
Box Office Gate and Times
Box Office Hours:
Wednesday (EARLY ARRIVAL ONLY): 2pm - 6pm (WEST GATE ONLY)
Thursday (camping arrival day): 11am - 11pm
Friday: 10am - 12am
Saturday: 10am - 12am
Sunday: 10am - 9pm
The festival will end Monday, October 2nd and all campers will need to exit the park by 3pm.
Arrive on time. If you arrive outside gate hours, the box office will be closed and you will not be able to enter the festival.
You are in advanced mode.
You can turn it off in left sidebar. To use advanced options, you will need to enter your own Google Maps API Key.
Get Google API Key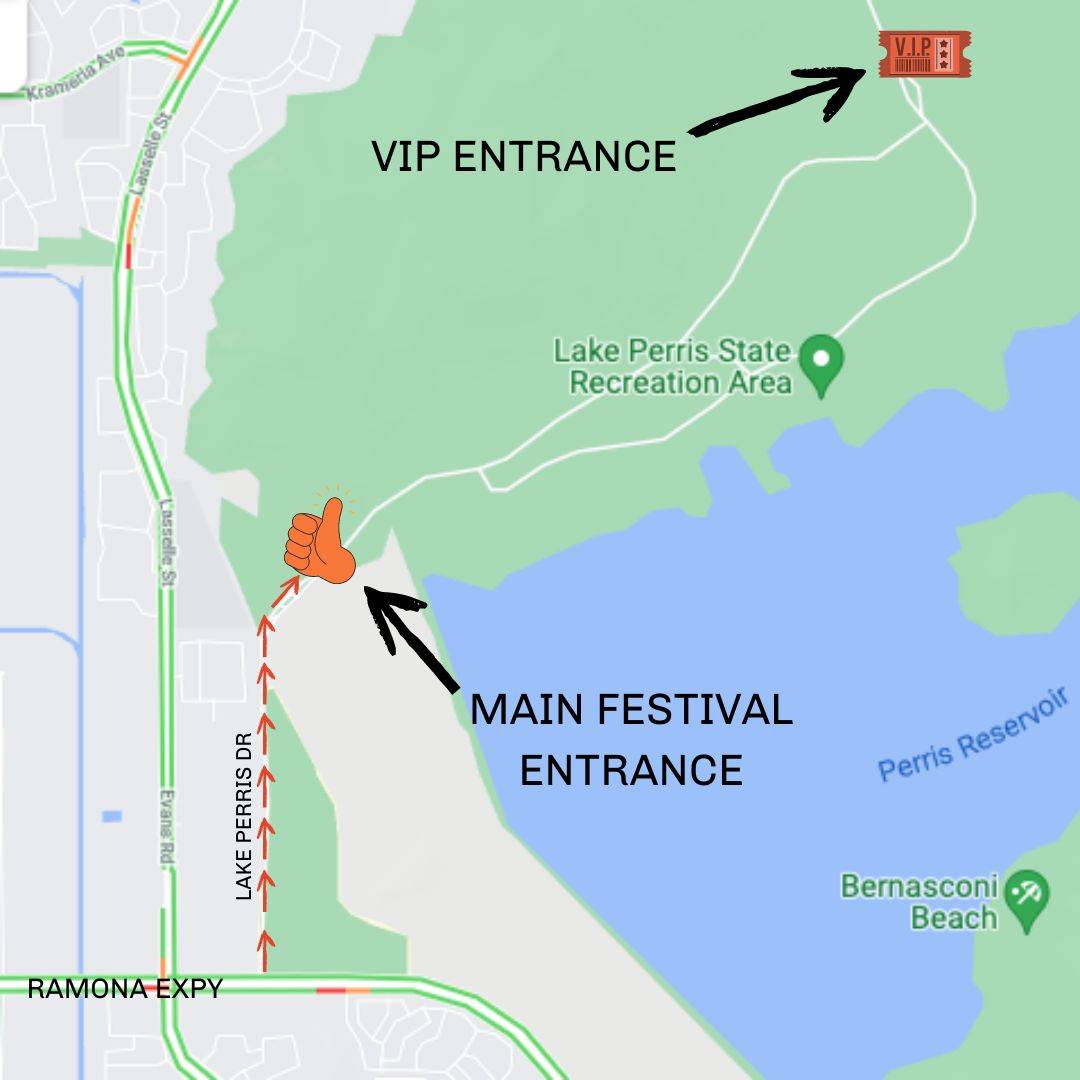 UBER / LYFT / Car-Pooling
We're all about lending a helping hand. We also highly encourage car-pooling to save both money and the environment. To help coordinate rides we set up an official ride-share with Ricky Rides.
If you're arriving in an UBER or LYFT there will be a drop-off zone near the festival within walking distance. PLEASE NOTE - Uber and Lyft drivers have a hard time finding their way into the state park at night and have limited cell service once they arrive at the park.